Date Submitted:
26/10/2012
Liam Young, of Tomorrows Thoughts Today and the AA's Diploma 6- Unknown Fields Division has a new project titled Under Tomorrows Sky opening this week as part of Dutch Design week in Eindhoven.
 
Under Tomorrows Sky <http://undertomorrowssky.liamyoung.org/>  is a fictional, future city. Speculative architect Liam Young of the London based Tomorrows Thoughts Today has assembled a think tank of scientists, technologists, futurists, illustrators and science fiction authors to collectively develop this imaginary place, the landscapes that surround it and the stories it contains.
 
The team includes futurist and author Bruce Sterling, comic author Warren Ellis, Scientist Rachel Armstrong, games concept aritst Daniel Dociu, comic illustrator Paul Duffield, Microsoft Research Lab, BLDGBLOG, Animators Factory Fifteen, ARC magazine, Centre For Science and Imagination and many more. Working with special effects artists from such films as Alien, Sunshine and Blade Runner, the architects of Tomorrows Thoughts Today have built a room sized movie miniature model of the city.
 
See the website for further details. www.Undertomorrowssky.liamyoung.org <http://www.Undertomorrowssky.liamyoung.org>
 
Date Submitted:
22/10/2012
An artistic investigation by Mike Tsang into what it means to be a British-Born Chinese - featuring 12 photographic portraits, archival imagery and written interviews.
SW1 Gallery, 12 Cardinal Walk (up escalator), Victoria, London SW1E 5JE Tel: 020 7963 4024
November Tuesday 6th- Friday 16th 2012
Press View and Tea Tasting: Tuesday 6th November 4pm – 5pm
Private View: Wednesday 7th November 6pm – 8pm
Open Tues–Fri 12pm–6pm; Sat 12pm–4pm; Sun & Mon CLOSED
Artist website: www.miketsangphotography.com
Project website: www.betweeneastandwest.com
Date Submitted:
22/10/2012
AA members, staff and students are invited to for Issue 2 of MOINOPOLIS, an international laboratory of thoughts on spatial matters.
In a networked society driven by ambiguity and omnipresence, where information and images overwhelm everyday life, MOINOPOLIS focuses on relevant themes that strive to demystify the 'cloud'.
Digital media has invoked a rapidness of distribution and consumption of information that often gives more attention to the cursory and immediate than the thoughtful or thought-provoking. While the Library of Congress may archive each and every single tweet without distinguishing their individual significance, MOINOPOLIS strives to understand, discuss and communicate fundamental spatial matters – we are interested in profound positions, not superficial comments.
For more information, visit www.moinopolis.org
Date Submitted:
17/10/2012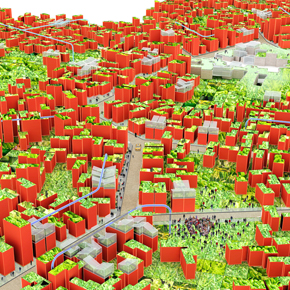 Oct 21, at CCA in San Francisco
Edible Infrastructures investigates new modes of urbanism which consider food systems as integral and generative components of a city's metabolic infrastructure. Using algorithms as design tools they pose the question 'What might the city look like if it were organised around the production and distribution of food?'

Other notable speakers at this year's ACADIA conference include Greg Lynn, Neri Oxman, Saul Griffith, Achim Menges and Manuel DeLanda. http://2012.acadia.org/home.html

For information visit www.edibleInfrastructures.net
Date Submitted:
16/10/2012
The emerging landscape urbanism practice is led by five partners, including AA Landscape Urbanism tutors Alfredo Ramirez, Eva Castro and Eduardo Rico. To find out more about the shortlisted nominees, visit http://www.awards.bdonline.co.uk/shortlist/
Groundlab have also been invited to participate in Global Design NYU (GDNYU) Symposium to take place at at the Building Center on 19 October. Additionally, the studio is part of the GDNYU exhibition, taking place from 20 september - 20 October 2012. For more information on the symposium and exhibition, visit: http://nyudesign.blogspot.co.uk/
Date Submitted:
16/10/2012
By drawing attention to the borders surrounding and between architecture and philosophy, this three-day conference uses the perspective of architectural theory and practice, along with the work of the French philosopher Jacques Derrida, to explore whether a new kind of unease has emerged in the contemporary relations between the disciplines.
Featured participants include Mark Cousins, director of undergraduate History and Theory Studies; AA School Alumnus Bernard Tschumi and AA guest lecturer Peter Eisenman.
Architecture of Deconstruction / The Specter of Jacques Derrida is organised by the University of Belgrade Faculty of Architecture and the Center for Ethics, Law and Applied Philosophy (CELAP). For more information, see the conference announcement. 
Date Submitted:
3/10/2012
An international conference on 17 October 2012, at RIBA, London
Sustainability must be the heart of integrated design – from the initial concept through construction and then throughout the use of any building project with long-term value. It is core to the RIBA's mission to champion better performing buildings and a more sustainable environment through architecture and our members.
The conference aims to bring together architects, suppliers and independent BIPV experts in order to stimulate a dialogue. Designers need to be confident in the products and the benefits they offer and  understand how to specify them.
'BRE are holding this important conference at the RIBA on the Building Integration of Photovoltaics. We all need to better understand the benefits of a holistic and integrated approach to achieving improved and more certain energy and carbon performance targets for our buildings and most importantly lowering our carbon footprint.'
– Angela Brady, RIBA President, August 2012
For more information, a full event programme and a special price for students and AA Members (£25 + VAT), visit the BRE website.
Date Submitted:
26/9/2012
Please join Bedford Press at the seventh annual New York Art Book Fair, organised by Printed Matter, where the publisher will present: Public Occasion Agency 1–22, edited by Scrap Marshall & Jan Nauta (see below for details of AA Bookshop launch, 3 October) and fm-scenario – Where Palms Stand – Mask – Delay, edited by Joerg Franzbecker & Herbert Kapfer. 
New York Art Book Fair, MoMA PS1, 27–30 September 2012
2nd floor, Q03
22–25 Jackson Ave. at the intersection of 46th Ave.
Long Island City, NY 11101
For more information, visit the Bedford Press website.
Diary:
Preview: Thursday 27 September, 6–9 PM
Friday 28 September, 12–7pm
Saturday 29 September, 11am–9pm
Sunday 30 September, 11am–7pm
Those in London are invited to the Book Launch for POA 1-22
Wednesday 3 October, 6:30pm
Architectural Association Bookshop
32 Bedford Square, London WC1B 3ES 


More about these titles:
POA 1–22 is part of the ongoing archive of activities conducted by the independent event bureau Public Occasion Agency (POA), founded by Jan Nauta and Scrap Marshall at the Architectural Association in 2009. The book is a collection of fragmented documents: previews, photographs, ephemera, reviews, reflections and opinions collated from the first twenty-two POA events. Critical and inquisitive, personal and probing contributions from a variety of authors from across fields and disciplines and with differing agendas here propose a withdrawal from idle commentary and encourage more productive forms of participation. Including essays by Pier Vittorio Aureli, Shumon Basar, Mark Campbell, Barbara-Ann Campbell-Lange, Henderson Downing, David Greene, Samantha Hardingham, Ingrid Schröder, Nicholas Simcik Arese, Silvana Taher, Tom Vandeputte and Carlos Villanueva Brandt
fm-scenario / the listener's voice is a radio and software-inspired platform for generating narratives and investigating the architectures of discourse. Based around a publicly accessible online studio, users can edit radio programmes from an archive of works by artist Eran Schaerf. These programs are broadcast by the Bavarian Broadcasting Corporation, serving as scenarios for a series of exhibitions and as opening montage statements for a series of blog-like publications.
This first fm-scenario edition coincides with the group exhibition Between Walls and Windows: Architecture and Ideology (House of World Cultures, Berlin, 2012) which presents ten location-specific productions by international artists and architects. The focus of this first issue derives from the exhibition and from the montage.
Date Submitted:
25/9/2012
Pavan Birdi & Rebecca Spencer (AA Fourth Year), Jin Ho Kim (AADip '12), Kengo Skorick (AADip '09) and Mickey Kloihofer (AADip '10) are presenting at the Global Design NYU exhibition as part of the 2012 London Design Festival.
A collection of Student work from various years of Diploma unit 16 on the theme of climatic adaptation and the sustainable future of cities. 
20 Sept - 20 Oct 2012, The Building Centre, 26 Store Street, London WC1E 7BT (Free and open to all)
See

link

for more information.
Date Submitted:
19/9/2012
Date Submitted:
18/9/2012
Atelier Paema has invited students and staff at the AA to enter the International Ideas Competition titled: "The Europe's Become - Architectural ideas, creative and artistic expressions for the conservation of the future of Europe".
The objective of the competition is the design of a European landmark, a contemporary "Emblem of freedom" for the Future of Europe in the third millennium.
The deadline for registration is December 15, 2012, and for sending proposals is January 15, 2013.
The brief and information for enrolling in the competition are available at: www.atelierpaema.eu
Please give the largest visibility to the present competition, since we believe it might capture your interest.

The Jury of the competition is composed by:

Stefan Behnisch (Architect, Behnisch Architekten);
Dennis Crompton (Architect, Archigram);
Gabriele Del Mese (Engineer, Arup consultant);
Mariangela Falà (Vice President of Atelier PAEMA);
Ruggero Lenci (Architect, RL Space Lab);
Carme Pinós (Architect, Estudio Carme Pinós);
Luigi Prestinenza Puglisi (Architect, President of AIAC);
Franco Purini (Architect, Studio Purini-Thermes);
Adèle Naudé Santos (Architect, Dean of the School of Architecture and
Urban Planning at MIT);
Claudio Strinati (Art Critic)
Date Submitted:
18/9/2012
The teams have raised over £20,000 but are seeking a further £6000. Please take a look at their fundraising film and pledge your support:
Date Submitted:
18/9/2012
Date Submitted:
18/9/2012
Date Submitted:
13/9/2012