Alex Warnock-Smith (AA H&U Course Master) delivers talk entitled 'Mobilising the Metropolis: new approaches for fighting corruption in the context of rapid urbanisation' at the International Anti-Corruption Conference in Brasilia 09/11/2012, with Transparency International, UN Habitat, Avina and others.
Date Submitted:
20/11/2012
The AA School alumnus used digital design techniques such as computer-controlled (CNC) routing and laser-cutting to create Unlimited Edition – a system of bent-plywood modules that combine to form objects and environments including a chair and pavilion.
In a recent feature on Dezeen, Lek addressed how the project responds to the exhibition's theme of 'thrift': "I wanted to create the shapes from a single cut of the CNC router, in order to minimise costly machining time," he told the magazine.
Watch the film of Unlimited Edition
Designers in Residence at the Design Museum runs until 13 January, 2013. Find out more.
Date Submitted:
20/11/2012
Darrick Borowski presented Edible Infrastructures: Cities, Farms & Algorithms, an investigation into the generative potential of food systems in the design of future cities. The research employs mathematical modeling and simulation to challenge the traditional methodologies of the urban designer and the meaning of authorship in the design process.
Andy Van Mater's talk, Complexity Through No Fault Of Our Own addressed the means and methods of city creation through examples of scripted works in the field of urban design.
The symposium was organised to discuss and debate the future of urban design education and practice in a rapidly urbanising world. Videos of the lectures will be available on the Washington University website.
Thom Mayne delivered the keynote lecture, which included work from his recently published book Combinatory Urbanism: The Complex Behavior of Collective Form. 
Date Submitted:
14/11/2012
The new Institute will unite advanced computational research and innovative practices from across the world, seizing the historical opportunities of current surging waves of construction and rapid urban development in greater China region.
Date Submitted:
12/11/2012
The ScalelessSeamless International Symposium on Integrated Planning Processes, Munster School of Architecture 15-17 November 2012.
Elif Erdine (DRL'06, current AA PhD in Design) will present her PhD thesis entitled, "Generative Approaches in Tower Design: Algorithms for the Integration of Tower Subsystems".
Alexandros Kallegias, (AA DRL Graduate '09) will be presenting his work with AA Athens, AA Istanbul and DLAB Visiting Schools, "Interactive Fields".
More information on: http://scaleless-seamless.org/
Date Submitted:
12/11/2012
It is with great sadness that the AA reports the death of the distinguished architect John Winter, who passed away earlier today. A constant friend of the AA, John studied at the school from 1950–53, having earlier completed a pupillage under an Arts and Crafts architect in Norwich.
After a stint of National Service with the Royal Engineers, John attended Yale, where he came under the influence of Louis Kahn. Subsequently he moved to San Francisco, where he worked for both SOM and Charles Eames. On his return to the UK, John joined the office of Erno Goldfinger before setting up his own private practice. During these early years, he not only designed and self-built his own house on Regal Lane, overlooking London Zoo, but undertook a number of important private commissions, including a steel framed house in Wentworth (1964) and cottages and farmhouses in Derbyshire and Yorkshire.
Alongside his practice, Winter taught at the AA, from 1960–64 (his students included Jeremy Dixon, Ed Jones and Nicholas Grimshaw) and acted as the AA's 'house' architect, responsible for many alterations and extensions, including what was initially intended as a 'temporary' back extension to the AA bar and terrace. Whilst small, highly thoughtful and individual modernist houses were to become Winter's chief oeuvre – his 1990 Weekend House, Happisburgh, a superlative example – he also undertook a number of larger-scale housing estate projects in Milton Keynes in the 1970s.
However, perhaps the most celebrated and mourned of Winter's houses is Hardy House, Swains Lane (1981, demolished 2008), which was situated with stunning views across London and the adjacent Highgate Cemetery and was supported on a central concrete pillar, with the first floor trussed up as a cantilever.
John himself will be sorely missed by the architectural community and at the AA where he not only inspired a generation of students but also made valuable contributions as a member of Council, as Honorary Secretary and as a Trustee of the AA Foundation.
Date Submitted:
12/11/2012
Sch
ӧ
ning, Berardi, Brillembourg and El Ultimo Grito will each present a film that has inspired their work to a live audience. Over the course of four nights at RIBA, each figure will host a Q&A before screening their film.
A drinks reception after the screening promises to be a lively forum for debate and discussion.
Tickets (£8.50 for Non-Members and £5.50 for RIBA members and students) may be booked through 
RIBA. 
Places at the events are limited, so book early to avoid disappointment.
Date Submitted:
6/11/2012
2 November, 8:30pm
Film Screenings: 4:30, 6:00 and 7:30pm
Inspired by the many spaces that exist in Africa beyond traditional cinemas, Film Africa 2012 is inviting you to experience film in an alternative way, as Lalibela Cinema Design Collective and Ranti Bamgbala transform the lower gallery of the Rich Mix into an experiential cinematic installation that explores themes of domesticity and the interaction of human form, cinema and fabric.
Free screenings, live events and the first-ever pidgin musical will be presented throughout the week. 
For the full programme, visit: http://www.richmix.org.uk/whats-on/event/film-africa-create/
Lalibela Cinema Design Collective was founded by Andrew Tam, Helen Evans, Sanaa Shaikh and Jean-Francois C. Lemay during their studies at the AA School. In December 2008, the LCDC brought a custom-designed mobile cinema to the town of Lalibela in Northern Ethiopia. The LCDC is currently fundraising to continue the festival and build a permanent community centre for residents. 
Ranti Bamgbala is a London-based ceramicist whose work explores a dialogue between teh known and the experienced.
Date Submitted:
2/11/2012
Inter Five invite you to our online screening of NEW NATURE a showcase of 30-second films made by the unit.



http://vimeo.com/52507020

Inter Five searches for:
- An exploration of The New Nature that is evolving from a culture whose dominant raw materials exist outside the visible spectrum  
- responses not solutions  
- A Bill of Quantities for each project
- Search as methodology, search as programme
- Film used as a sketchbook  
- Ideas that are cared for  
- Technical decisions that are aesthetic decisions
Date Submitted:
2/11/2012
Christopher Lee (former Director of AA Projective Cities Programme and AA Dipl.(Hons) 1998) was conferred the Doctorate degree in Architecture and Urbanism by the Berlage Institute and TU Delft on 26 October 2012.
His doctoral thesis, titled 'The Fourth Typology: Dominant Type and the Idea of the City' proposes a renewed understanding of type and its relation to the idea of the city. This revalidation of the theory of type and its instrumentality for architectural production in today's globalised cities, rest on the potential of type as a heuristic device to locate a commonality in which architecture could invest itself with sociality.
For more information: www.thecityasaproject.org
Date Submitted:
29/10/2012
Date Submitted:
26/10/2012
Liam Young, of Tomorrows Thoughts Today and the AA's Diploma 6- Unknown Fields Division has a new project titled Under Tomorrows Sky opening this week as part of Dutch Design week in Eindhoven.
 
Under Tomorrows Sky <http://undertomorrowssky.liamyoung.org/>  is a fictional, future city. Speculative architect Liam Young of the London based Tomorrows Thoughts Today has assembled a think tank of scientists, technologists, futurists, illustrators and science fiction authors to collectively develop this imaginary place, the landscapes that surround it and the stories it contains.
 
The team includes futurist and author Bruce Sterling, comic author Warren Ellis, Scientist Rachel Armstrong, games concept aritst Daniel Dociu, comic illustrator Paul Duffield, Microsoft Research Lab, BLDGBLOG, Animators Factory Fifteen, ARC magazine, Centre For Science and Imagination and many more. Working with special effects artists from such films as Alien, Sunshine and Blade Runner, the architects of Tomorrows Thoughts Today have built a room sized movie miniature model of the city.
 
See the website for further details. www.Undertomorrowssky.liamyoung.org <http://www.Undertomorrowssky.liamyoung.org>
 
Date Submitted:
22/10/2012
An artistic investigation by Mike Tsang into what it means to be a British-Born Chinese - featuring 12 photographic portraits, archival imagery and written interviews.
SW1 Gallery, 12 Cardinal Walk (up escalator), Victoria, London SW1E 5JE Tel: 020 7963 4024
November Tuesday 6th- Friday 16th 2012
Press View and Tea Tasting: Tuesday 6th November 4pm – 5pm
Private View: Wednesday 7th November 6pm – 8pm
Open Tues–Fri 12pm–6pm; Sat 12pm–4pm; Sun & Mon CLOSED
Artist website: www.miketsangphotography.com
Project website: www.betweeneastandwest.com
Date Submitted:
22/10/2012
AA members, staff and students are invited to for Issue 2 of MOINOPOLIS, an international laboratory of thoughts on spatial matters.
In a networked society driven by ambiguity and omnipresence, where information and images overwhelm everyday life, MOINOPOLIS focuses on relevant themes that strive to demystify the 'cloud'.
Digital media has invoked a rapidness of distribution and consumption of information that often gives more attention to the cursory and immediate than the thoughtful or thought-provoking. While the Library of Congress may archive each and every single tweet without distinguishing their individual significance, MOINOPOLIS strives to understand, discuss and communicate fundamental spatial matters – we are interested in profound positions, not superficial comments.
For more information, visit www.moinopolis.org
Date Submitted:
17/10/2012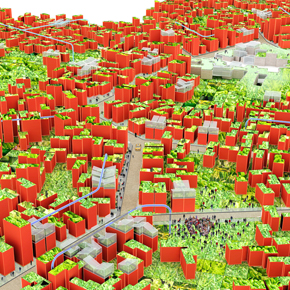 Oct 21, at CCA in San Francisco
Edible Infrastructures investigates new modes of urbanism which consider food systems as integral and generative components of a city's metabolic infrastructure. Using algorithms as design tools they pose the question 'What might the city look like if it were organised around the production and distribution of food?'

Other notable speakers at this year's ACADIA conference include Greg Lynn, Neri Oxman, Saul Griffith, Achim Menges and Manuel DeLanda. http://2012.acadia.org/home.html

For information visit www.edibleInfrastructures.net
Date Submitted:
16/10/2012